Over the last couple of years there has been a pretty huge resurgence of interest in Mister Rogers. Beginning with the 2018 documentary, Won't You be My Neighbor?, there has also been a new biography published about Fred Rogers, new publications of his poetry and music, countless magazine and newspaper articles, a celebration of #WorldKindnessDay wearing cardigans in his honor, and now a new film starring Tom Hanks.
What's been surprising to me about this renewed interest is that it doesn't seem to be generated by Gen-X adults – those who are in their 40's and 50's and grew up during the prime years of the Mister Rogers show. Instead, the energy of this new "movement" seems to be coming from Millennials (and even Gen-Z!), those in their 20's and 30's, many of whom did not grow up actually watching the show (at least not to the same degree as Gen-X). So why the sudden interested in this children's TV show puppeteer amongst grown adults?
In a general sense I don't think this should surprise us. Who wouldn't want a friend like Fred Rogers? Who wouldn't want to surround themselves with people who affirm us, love us unconditionally, and who seem to hang on every word we say as if it is the last word they will ever hear? As human beings we are made for connection, and we are attracted to the kindness of authenticity of others – even if it's in a deceased children's performer we've never met.
But I also think there is a more specific reason why we're seeing this passion for Mister Rogers emerging today, in this cultural moment, at the end of one decade and the start of another. A recent report published in the Journal of the American Medical Association reveals that after decades of mortality rates decreasing and life expectancy increasing, the United States is no longer on track with populations in other wealthy countries who are continuing to see progress in extending life expectancy. For the 3rd year in a row, between the years 2014 and 2017 (and I'm sure future studies will reveal this trend continuing in 2018 and 2019) life expectancy is falling for people ages 25 to 64. The highest jump in death rates – a 29 percent jump! – has been among people ages 25 to 34, the generation who seems to be driving the most interest in Mister Rogers.
These findings reveal that there is no one primary cause of excess deaths, but it is the combination of destructive behavior from things like suicide, distracted driving, or opioid, alcohol, and other drug addictions. One medical professor summarized these findings: "People are feeling worse about themselves and their futures, and that's leading them to do things that are self-destructive and not promoting health."
Here is the tension of the culture we live in: so many of us are desperate for friends or family who will love us, affirm us, and accept us; yet at the same time most of us are weighed down by a pervasive feeling of shame, the feeling that we are never good enough and incapable of being loved or accepted.
The Christmas story resolves this tension for us. It reminds us that joy has dawned, and light has broken into the darkness. Yet there is one part of this story that often tends to be overlooked – Jesus' genealogy as it is recorded in Matthew 1:1-17. When we take a closer look at this part of the story, we discover five women who deepen our understanding of how great our need for redemption truly is, but who also reveal God's love to us in surprising new ways. Continue Reading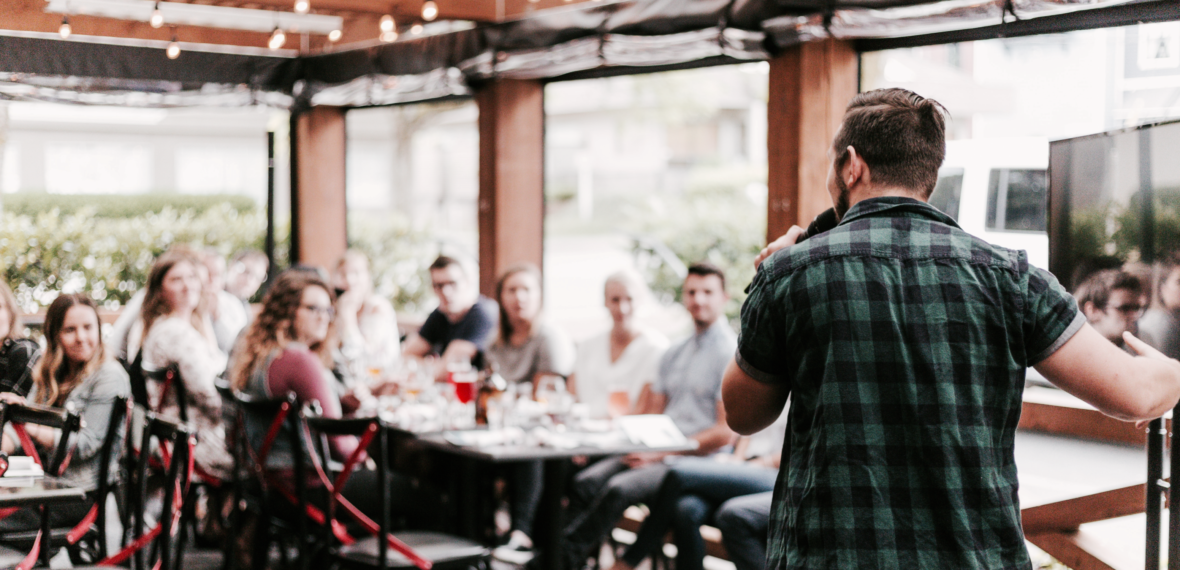 I've recently been receiving physical therapy to treat ongoing knee pain I've had the last few years. During my first evaluation, my physical therapist simply observed me while I walked back and forth in his studio. He quickly pointed out that I've been overcompensating to my left leg for so long that my right leg and hip are basically unengaged while I walk. The first thing we had to work on was learning to get my right leg engaged again.
We progressed to a point after several weeks where my physical therapist was able to observe me while I ran. It turns out that my stride is all messed up. The problems with the stride in my legs had little to do with the legs themselves, but much to do with how I used my arms while I was running. His exact words were that while I have full movement with my right arm, "You're doing a T-Rex thing with your left arm." This was causing a lot of uneven rotation in my legs while I ran, which put a lot of pressure on my knee.
You see, while I thought problems in my knee meant that I only needed to focus on fixing my knee, it turns out that my whole body is more connected than I first thought. Pain and dysfunction in this one part of my body reflects how poorly the rest of my body is functioning.
The body metaphor is a common one that is used to describe the Church in the New Testament. We are one body with many members, and each part is essential to the whole (1 Corinthians 12:12-26, Ephesians 4:11-16, etc.). These verses contain great wisdom in how we can find our place within this body, and how this body is meant to grow together. Continue Reading
My wife recently took me to see the new biographical documentary on Fred Rogers, Won't You Be My Neighbor? While I don't know how much Mister Rogers impacted me as a child, I do have faint memories of watching his beloved show. I never realized until I was an adult just how important and formative Mister Rogers' Neighborhood really was.
In the documentary, they highlighted several clips from the show in order to demonstrate how Mister Rogers addressed public events and issues facing children. One of the clips that stood out to me the most – which I suppose is probably familiar to those who know the show well, unlike me – is of a duet between Daniel Tiger and Lady Aberlin. The conversation begins with Daniel Tiger wondering if he is a mistake, because he doesn't know any other tigers like him. One of his verses goes like this:
Often I wonder if I'm a mistake?
I'm not supposed to be scared am I?
Sometimes I cry and sometimes I shake
Wondering isn't it true that the strong never break
I'm not like anyone else I know
I'm not like anyone else
I know many people – children and adults – struggle with a sense of shame much like Daniel Tiger. I know, because I counsel them. I know, because I share in this same struggle. We question our worth, our value, our sense of self, whether or not we measure up to our own expectations (let alone anyone else's). We too start to say to ourselves, "I wonder if I'm a mistake?"